Hampshire™ Picket Fence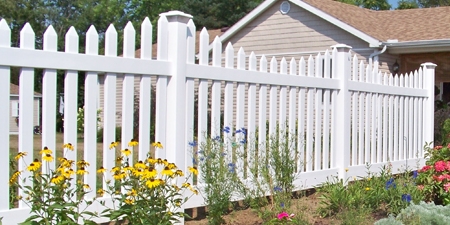 The Hampshire provides all the beauty of a traditional picket fence with the addition of a subtle scallop accent for an elegant touch. The Hampshire features wide pickets making it a sturdy yet beautiful addition to your yard. Availiable in 3 colors: white, tan and khaki.
Next Step: Choose Fence Height Below For Pricing
Give your home a distinctive look with this Cape Cod style picket fence with a scalloped top and 3" wide pickets with a 3" space between pickets. Manufactured from premium (commercial grade) vinyl it offers the combination of both beauty and reliability along with requiring very little maintenance. Available with traditional dog-ear picket caps or sharp spade picket caps. Each picket is secured by two notches that lock into the bottom rail, which contains an aluminum insert for superior strength. The Hampshire panels, like all of our vinyl fencing, use a routed system and require no fasteners for installation.