Neptune™ Pool Fence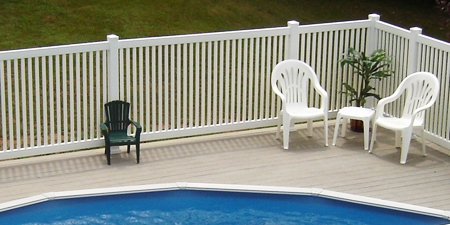 The Neptune Vinyl Pool Fence is similar to the Captiva vinyl pool fence, but the Neptune utilizes a narrower 1.5" wide picket with a 3.7" space between pickets. Our vinyl pool fencing online is available in White, Tan, or Khaki in 4' and 5' heights. As with all of our pool style fences, the Neptune fence panel has an aluminum insert in the bottom rail for superior stability.
Next Step: Choose Fence Height Below For Pricing
The Neptune Vinyl Pool Fence is a closed top, traditional style fence making it a great addition to any yard. Manufactured from the industries highest quality materials, the Neptune will provide strength and durability for years to come. Plus like all of our vinyl products, it is virtually maintenance free and comes pre-routed for quick onsite assembly.