Clearwater™ Privacy Fence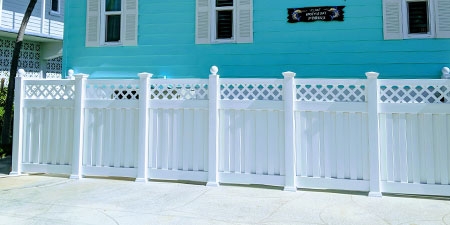 The Clearwater
TM
features a unique 3-dimensional look paired with a lattice top accent. This fence is the perfect choice for homeowners seeking both privacy and style. It provides superior strength and impact resistance while looking brand new for years to come. Available in white or tan.
This product is not currently in stock. Browse our current selection of vinyl privacy fences here.
The Clearwater privacy fence features wide pickets assembled to provide a 3-dimensional look as well as an elegant lattice top. An aluminum insert is included in the bottom rail for superior strength. Reliable and easy to install, the Clearwater is a beautiful yet functional choice. Like our other privacy fences, the Clearwater fence requires little to no upkeep or maintenance. Manufactured from high quality vinyl, the Clearwater will never need to be sanded, painted or sealed and will provide the seclusion you need for years to come. Based on testing, it was determined that the Clearwater privacy fence can withstand sustained winds of up to 110 m.p.h and wind gusts of up to 130 m.p.h. if installed following the high wind installation method provided in the installation guide. Click here to view video of the testing and the full report.