About Us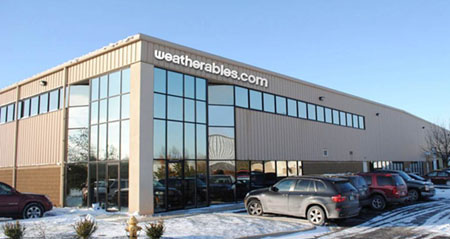 Premier outdoor living products manufactured in the USA
We started long ago as Columbus Custom Vinyl with vinyl horse fencing as our pillar product. We quickly expanded to markets outside of Columbus, Ohio, offering a full line of vinyl fences, and changed our name to USA Vinyl Fence Company. Today, thanks to significant growth, we are one of the largest outdoor living product companies in the United States and are growing internationally. As Weatherables, we now sell premium quality, weather-resistant vinyl and aluminum fencing, railing, pergolas, gazebos, vinyl and wood accessories, a variety of garden products, and more.
Click an image above for more information.
What makes us different?
We are a family owned company that does business with integrity, embedding honesty and trust in every customer and partner we have the honor to serve. By focusing on quality and superior service, we've established a reputation in the industry as the premier provider of outdoor living products. We thrive on enhancing the beauty and functionality of your outdoor living space and our entire staff stands ready to work with you before, during and after your purchase.
A brand that stands for superior service and premium quality products can also offer value. At Weatherables. we give you access to wholesale direct prices. Our products are manufactured in our facility so we are not a middle man like many competitors. This means that we have complete control over the high quality standards we enforce, and we're able to offer you the best prices in the industry – we guarantee it.
All vinyl is not created equal
The thickness of our vinyl extrusions is critical to ensuring a quality product. Over the years, we've seen many companies substantially lower the thickness of their product to lower their cost. But, the thinner the product, the higher the quality issues. Unfortunately, it costs more to fix a vinyl fence than to install a high quality vinyl fence right the first time. The reality is the thicker the product, the more expensive it is to make. Yet, vinyl extrusions have a tolerance where companies can publish a higher thickness but you actually receive a much thinner wall. At Weatherables, we adhere to narrow tolerances and have a quality control process that is second to none. We will send you free samples to compare. At Weatherables, we will not sacrifice quality - ever. In fact, we will go spec to spec with any competitor and are confident our quality will rise above theirs.
Contact us to personally experience what makes Weatherables different from other manufacturers. Whether you need help with a challenging landscape layout, or with selecting the perfect model to enhance the value of your home, we are the experts to call. Rest assured that you will be working with knowledgeable fencing specialists, not sales people.
In the meantime, this video deomonstrates a wind test that proves our vinyl privacy fences can be installed to handle sustained speeds of 110MPH and wind gusts up to 130MPH! The Savannah, our most popular fence, is shown here but all of our privacy fence styles meet this engineering specification. Quality doesn't get better than this.