Vinyl Railing
Shop our commercial grade Vinyl Deck Railing Kits!
At Weatherables we only manufacturer the most durable, code-tested vinyl deck railings in the industry. Weatherables vinyl deck railing kits offer beauty with durability and low maintenance. Vinyl railing is an efficient, eco-friendly option for your new deck or replacing your old wood railing. Weatherables vinyl railing products do not need to be sealed or stained and will not discolor, crack or splinter. Our DIY boxed vinyl deck railing kits ship in 3 business days or less.
Click an image below to view pricing.
Next Step: Choose Vinyl Railing Style Below For Pricing
Classic Railing
The best choice for affordable, strong & durable railing.
Premium Railing
Attractive designs manufactured from the highest quality vinyl, up to 50% stronger that other brands.
---
Style Guide
Each style of vinyl railing is different! Here's a guide to choosing what is right for you: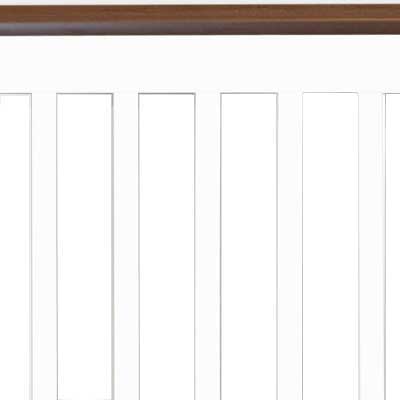 BRISTOL
Similar in style to the Berkshire, the strong Bristol™ vinyl deck board railing kit allows the addition of your own deck board to the top rail.
DERBY
The durable Bristol™ features beautiful, .75" round aluminum spindles and hardware to mount your current deck board on the top rail in a seamless match.
LANCASTER
The Lancaster™ with .75" square aluminum spindles and the deck board of your choice is a stunning premium railing.
---
Weatherables Vinyl Railing - Everything You Need to Create a Dazzling Porch or Deck
Looking for an easy way to refresh your home's exterior, enhance your curb appeal, or create a safe outdoor area that your friends and family can enjoy?
Our vinyl railing kits and materials can do all of that and more. We offer railings for decks, steps and porches, and we even provide accessories like planters and lighting.
Weatherables® presents a solution that is aesthetically pleasing, low maintenance, and budget-conscious. A sturdy porch or deck railing purchased through USA Vinyl is truly an industry-leading long-term value.
For eco-conscious consumers, our railing materials are the most environmentally friendly option.
Unique Beauty and Brawn for Your Deck or Porch
Even though we offer full-kit solutions, your outdoor space's final look will be anything but status quo.
Find an option to add a touch of finesse to your home's exterior from our wide array of design choices and options in white, tan or khaki colors. Browse our customer and product photos to get inspired with ideas for your own home.
Ease of Installation
Adding finishing touches to your deck or porch with new railing or accessories has never been so simple. Our vinyl railing kits are conveniently boxed with all brackets, components, and instructions.
As you begin your installation, we have an exceptional client service team standing by to assist you with any questions or concerns.
Once installed, vinyl materials need little upkeep beyond some soap and water. Forget the hassle and environmental hazard posed by repainting or resealing wood. Discover the strength and durability of our vinyl fencing today!
Optimize Your Investment's Lifetime Value with USA Vinyl Products
Our buyers love knowing that they get the lowest possible prices available – guaranteed.
And even though our prices are low, USA Vinyl customers buy with the confidence that their money will go far. Our lifetime warranty means peace of mind in your investment. It promises that our railings will not chip, rot, crack, or discolor.
Product Testing and Accreditations
We can ensure the exceptional structural integrity of our products because we source superior inputs.
All of our Weatherables® Vinyl Railing Kits are tested with ICC-ES AC174 standards as evaluated by PEI, Inc. Code Compliance Report PER-12049. We also offer ADA compliant handrail systems for your home or business.
What Are Your Waiting For? Order Your Vinyl Railing Today
When you purchase from USA Vinyl, you can rest assured that you are making the best choice.