Vinyl Horse Fence
Top Grade Horse Fencing for Your Top-Grade Horse.
Weatherables® is proud to manufacture the most secure and effective vinyl horse fencing on the market. As the largest online wholesale manufacturer of vinyl horse fences, we're able to provide top-quality products at wholesale direct prices. Click an image below to view pricing.
Click An Image Below For Pricing
What Makes Weatherables The Best Choice For Vinyl Horse Fencing?
We have a 20-year proven record and an A+ Better Business Bureau rating. We have sold more vinyl horse fencing and horse fencing products than any other company. Best of all, we manufacture and ship all of our horse fencing products directly from our facility – no brokers or middlemen markups--which makes our horse fencing prices the best in the business!
We manufacture premium quality vinyl made from only the highest grade horse fencing products and materials, so you can rest easy knowing your livestock is safe and secure. Up to 50% stronger than the competition, Weatherables vinyl horse fencing products are the strongest, most durable option on the market. To learn more, and to check out our horse fencing prices, take a look at the video below:
We Offer All of the Horse Fence Options You Need
Styles:

Choose from two-rail, three-rail, four-rail and crossbuck vinyl horse fencing with 1.5" x 5.5" or 2" x 6" rails.

Gates:

Gate kits are available for two, three and four-rail horse fencing. Custom gates are available for our crossbuck fencing. Three-rail or four-rail vinyl fence is typically best for holding livestock.

Premium Grade Materials:

Our horse fencing is manufactured using premium grade materials and thicker posts and rails, making it 20% stronger than the competition when it comes to impact resistance.

Thicker Vinyl For Superior Strength:

Our 5" x 5" posts are 0.150" thick for added strength (compared to many posts on the market that are only 0.125" thick). Plus, our horse-rail fence rails are 0.090" thick compared to that of our competitors, which tend to be only 0.070" thick. Often, our competitors will market their fence posts as 0.135" thick with +/- 0.015" variance so you could actually be receiving 0.120" posts.

Minimum Order Quantity:

Please note that the minimum order for post and rail vinyl horse fences is 104 linear feet and pricing is calculated based on linear foot and includes delivery.

Color Options:

White horse fencing is by far our most popular option, but we also offer tan, khaki and gray horse fencing options.
Additional features: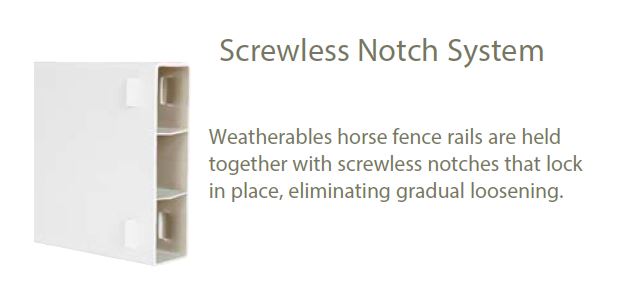 Contact Us Today for the Highest Quality Vinyl Horse Fencing
Customer satisfaction is our top priority. If you have any questions, need a quote or or if there is anything else we can do to assist you with the ordering process, just let us know. We are here to help. Contact a dedicated horse fence specialist at 888.743.3673 or click here to view our horse fence brochure.